For more than 20 years, I've run the DEH Speaker Series (formerly under the names Flex-Time Lawyers and Law & Reorder).  The DEH Speaker Series is a quarterly programming series where I interview and moderate conversations with New York Times best-selling authors, TED speakers and thought leaders.  The quarterly events draw up to 1,000 participants from companies, law firms and non-profits worldwide.  The program topics vary and generally fall into three categories:  careers/workplaces, women/diversity and law.  Here's my 2 ½ Minute Sizzle Reel that includes video clips of the DEH Speaker Series to give you a sense of how they work.
We are excited to be expanding our DEH Speaker Series membership offerings to three types:
Access to the Next 4 Consecutive Events by Unlimited Online Webcast for 1 Year
Access to the Next 4 Consecutive Events by Unlimited Online Webcast for 1 Year PLUS  Access to All 16 Former Archived Events by Unlimited Online Access for 1 Year
Access to All 16 Former Archived Events by Unlimited Online Access for 1 Year
Due to COVID-19, the DEH Speaker Series is currently being offered exclusively online and membership options do not include in-person participation.  When social distancing restrictions are removed, if it makes sense to return to in-person programming, we will resume in-person events at the same rate for existing members and continue to offer the events by webcast.  With the new exclusive online offerings, all members will be able to access the webcast events individually from any location.  Many organizations purchase corporate memberships to supplement their internal professional development, women's initiatives and/or diversity programming.  With the future of travel, work-at-home parameters, conferences, meetings, and social gatherings still in limbo, access to meaningful programming and connection remains limited and the DEH Speaker Series can fill these gaps now more than ever.  To learn more about the new Archived Access that we're offering and to access 16 of our former events, click here.
Here's a corporate invoice and an individual invoice that outlines the new offerings and payment terms.  Click here to purchase one of the membership offerings online.  You can also pay by check as outlined in the invoices.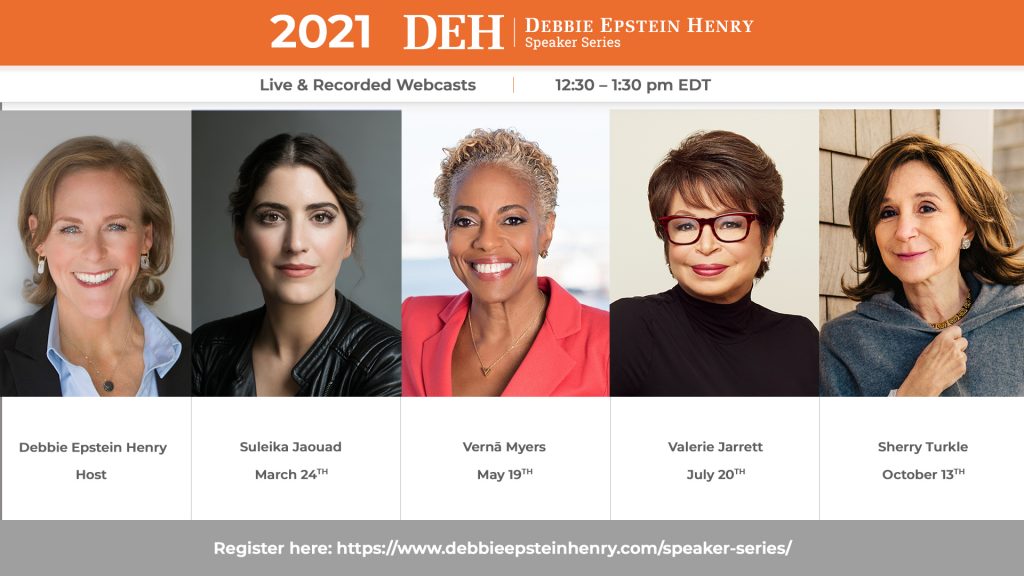 NEXT DEH SPEAKER SERIES EVENT
Finding Your Voice

Co-Host: Troutman Pepper
Wednesday, October 13, 2021
12:30 – 1:30 pm EDT
By Live & Recorded Webcast
Register for this event
The Case for Empathy, Now. MIT professor, New York Times best-selling author, psychologist and media scholar, Sherry Turkle, has been sounding an alarm for years about how living behind our screens undermines our social connections and emotional lives. Her New York Times best-seller, Reclaiming Conversation, proposed a solution: to look up from our screens and talk to each other. Yet the past year and a half has forced many of us into more screen-dependent isolation than ever before. During this fireside chat interview, Sherry will share findings from her new acclaimed memoir, The Empathy Diaries, and explore how empathy and connection can arrive when we feel the most alone and unfamiliar. With probing questions posed by author and workplace expert, Debbie Epstein Henry, Sherry will share insights on her most personal relationships—with family, spouses, friends, and with colleagues as diverse as Jacques Lacan and Steve Jobs—as object lessons in developing the empathy necessary to make and maintain deep connections. "We are the empathy app," Sherry writes. "To fix our crisis of intimacy and privacy, of empathy and human connection, we don't need more technology. We need one another."