For more than 20 years, I've run the DEH Speaker Series (formerly under the names Flex-Time Lawyers and Law & Reorder).  The DEH Speaker Series is a quarterly programming series where I interview and moderate conversations with New York Times best-selling authors, TED speakers and thought leaders.  The quarterly events draw up to 1,000 participants from companies, law firms and non-profits worldwide.  The program topics vary and generally fall into three categories:  careers/workplaces, women/diversity and law.  Here's my 2 ½ Minute Sizzle Reel that includes video clips of the DEH Speaker Series to give you a sense of how they work.
We are excited to be expanding our DEH Speaker Series membership offerings to three types:
Access to the Next 4 Consecutive Events by Unlimited Online Webcast for 1 Year
Access to the Next 4 Consecutive Events by Unlimited Online Webcast for 1 Year PLUS  Access to All 16 Former Archived Events by Unlimited Online Access for 1 Year
Access to All 16 Former Archived Events by Unlimited Online Access for 1 Year
Due to COVID-19, the DEH Speaker Series is currently being offered exclusively online and membership options do not include in-person participation.  When social distancing restrictions are removed, if it makes sense to return to in-person programming, we will resume in-person events at the same rate for existing members and continue to offer the events by webcast.  With the new exclusive online offerings, all members will be able to access the webcast events individually from any location.  Many organizations purchase corporate memberships to supplement their internal professional development, women's initiatives and/or diversity programming.  With the future of travel, work-at-home parameters, conferences, meetings, and social gatherings still in limbo, access to meaningful programming and connection remains limited and the DEH Speaker Series can fill these gaps now more than ever.  To learn more about the new Archived Access that we're offering and to access 16 of our former events, click here.
Here's a corporate invoice and an individual invoice that outlines the new offerings and payment terms.  Click here to purchase one of the membership offerings online.  You can also pay by check as outlined in the invoices.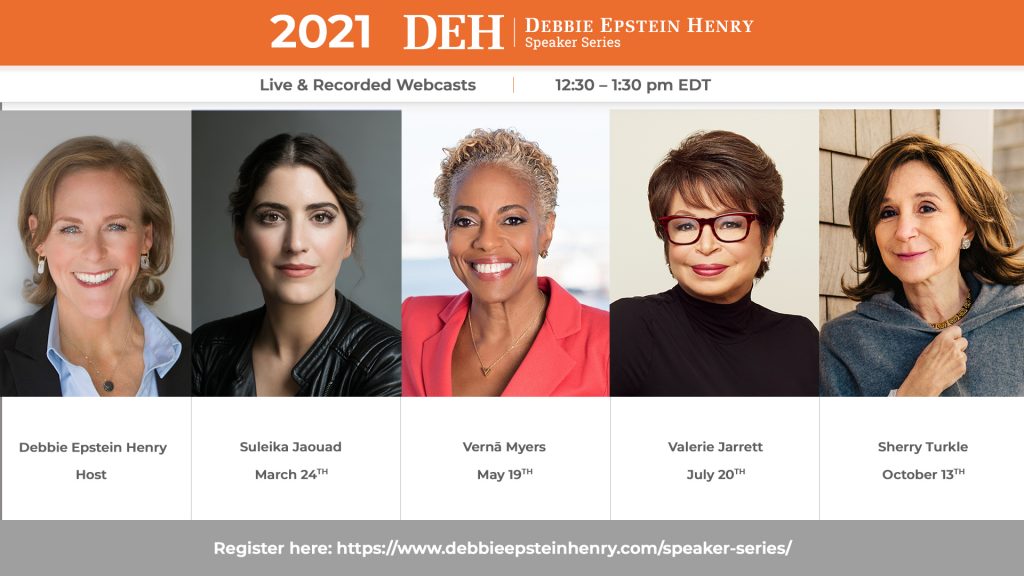 NEXT DEH SPEAKER SERIES EVENT
Wednesday, January 26, 2021
12:30 – 1:30 pm EST
Co-Host: Sidley Austin LLP
By Live & Recorded Webcast

TOPIC DESCRIPTION:  Harriette Cole's mission is to help people identify, stand in, and articulate their greatness.  During this fireside chat interview, Harriette will relay the wisdom she has developed as a best-selling author, motivational speaker and public speaking coach on how to present your professional brand effectively – both in person and remotely.  She'll put a Covid lens to her advice to enable these strategies to work in what, at times, feels like an invisible workplace.  She'll also delve into the subtleties of how burnishing your brand is different for women and people of color.  With probing questions posed by author and workplace expert, Debbie Epstein Henry, Harriette will reveal her magical tips on developing a presence and an impact, whether you're onsite or video and whether you're just starting out or you're reestablishing your connections and the ability to be seen and heard.  A veteran in the field of communications, Harriette will share lessons of her life's work in helping people unlock their excellence, ensure their relevance and leap into their dreams.
DISTINGUISHED GUEST:  Harriette Cole is a veteran in the field of communications.  She hosts live-streaming content for AARP and she also hosts a weekly radio show where she interviews dynamic guests who have manifested their dreams and come to share their journey.  Harriette hosts a weekly podcast, DREAMLEAPERS Inspiration, where she explores tenets to inspire your best life.  She is a best-selling author, motivational speaker, media trainer, and professional public speaking coach.  She is a senior fellow at encore.org and the new director of programming for Kahilla, an online bootcamp for women.  Harriette began her career at Essence Magazine where she ran the lifestyle and fashion departments.  She was the editor-in-chief and creative director of Ebony Magazine and she is the author of seven books.  Harriette was also the founding editorial director of Uptown Magazine and the founding creative director of Savoy Magazine.  She was a longtime contributor to the Today Show and a regular guest on Inside Edition and BET.  Harriette serves on the board of The PRASAD Project, an international charitable organization.
CO-HOSTS, PARTNERS, SIDLEY