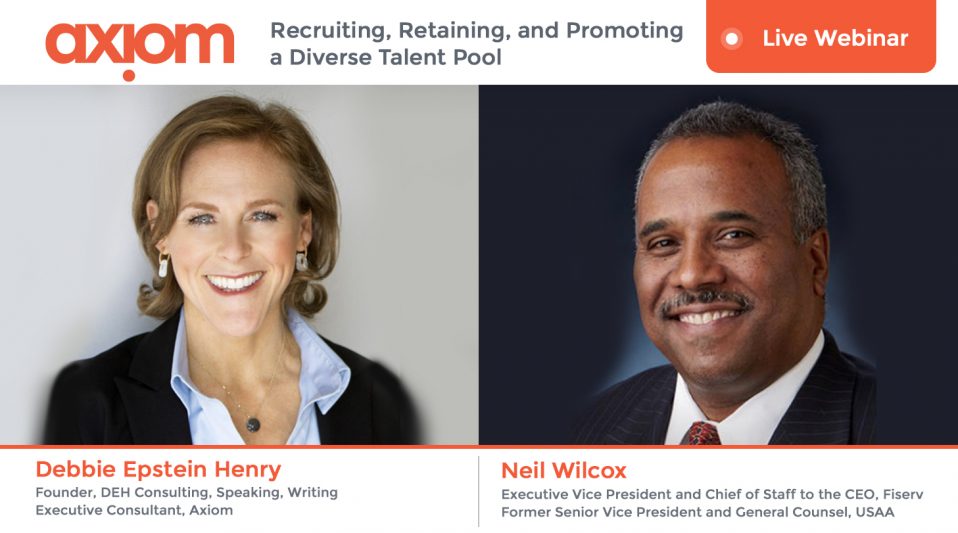 October 15, 2020
Thursday,1:00 PM
Axiom: Recruiting, Retaining and Promoting a Diverse Talent Pool with Debbie Epstein Henry and Neil Wilcox, Fiserv
In a world with workplaces upended by new virtual and hybrid work models and employees struggling in a divided country, how should companies and firms best develop their talent?
Join us for a discussion with Neil Wilcox (Executive Vice President and Chief of Staff to the CEO, Fiserv; Former Senior Vice President and General Counsel, USAA) and Debbie Epstein Henry (Founder, DEH Consulting, Speaking, Writing; Executive Consultant, Axiom) as part of our series, What Legal Leaders Want with Debbie Epstein Henry.
Their discussion will explore how to:
Recruit, onboard and train talent in an elusive environment where leaders are struggling to convey culture online

Inspire talent to demonstrate their value and cultivate engagement

Ensure the continued commitment to invest in diverse talent when layoffs and furloughs are the business realities of today
If you cannot join at this time, a replay will be available on demand.