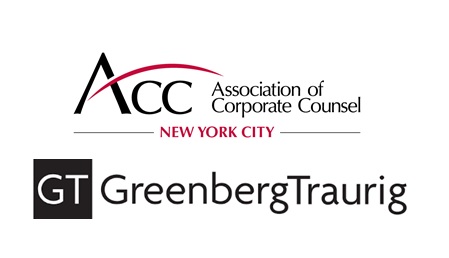 September 23, 2019
Monday,12:00 PM
DEH Speakers Series Event ~ General Counsel Driving the Diversity & Collaboration Agenda
The Yale Club of New York City, 50 Vanderbilt Ave. (between E. 44th & E. 45th Streets), The Grand Ballroom, New York, NY
Get Directions
Monday, September 23, 2019 from 12-2:00 PM EDT and by webcast
Co-Hosts:  Greenberg Traurig, LLP and Association of Corporate Counsel, New York City
Location: The Yale Club of New York City, 50 Vanderbilt Ave. (between E. 44th & E. 45th Streets), The Grand Ballroom, New York, NY
Topic:  General Counsel Driving the Diversity & Collaboration Agenda.  The January 2019 New York Times article reporting on the dearth of diversity in law firm partnership promotions was the latest wake-up-call of the significant diversity challenges plaguing the legal profession.  An Open Letter response, now penned by more than 200 general counsel, pushes for greater diversity in the legal industry as well as tangible steps legal departments can take to inspire outside counsel change.  At this event, a distinguished general counsel and management panel will explore how to collaborate with outside counsel to build a more diverse profession, improve talent development for all lawyers, and achieve better outcomes for clients.  We hope you will join us for this thought provoking, interactive discussion that will explore hiring, developing and promoting diverse talent both inside companies and at the law firms and legal service providers with whom they work.
Moderator:
Debbie Epstein Henry, Founder, DEH Consulting, Speaking, Writing; Co-Founder, Bliss Lawyers
Panelists: 
Yen Chu, Senior Vice President, General Counsel, EQUINOX
Ernest LaMont Greer, Co-President, Greenberg Traurig, LLP
Michele Coleman Mayes, Vice President, General Counsel & Secretary, The New York Public Library
Laurie Poulos, Vice President, General Counsel & Chief Compliance Officer, TRANZACT
Greenberg Traurig LLP has graciously offered to provide lunch for all in-person attendees.